+Overview
Ipswitch WS_FTP Professional
gives you lightning-fast transfer speeds, along with industry-leading security with 256-bit AES over SSL / FTPS & SSH / SFTP connections, fully-integrated PGP mode, and file verification mechanisms, and time-saving automation features like, scheduling, backup, synchronization, search, compression, scripting and email notifications.
+

What's New in 2007
New Backup to any drive, device or server


Archive your files to any location like USB and DVD drives, your network, FTP sites or your ISP. You can even schedule and compress your backups.
New Integrate your desktop search


Easily find and transfer files using integrated Google™, Copernic™ and Windows® desktop search engines.
New File Integrity checking


Built-in SHA256 and SHA512 file verification validates that your files weren't compromised during transfer and ensures that the source and destination are exact matches.
New Easy administration
Deploy & manage multiple computer installations with Citrix® and Microsoft® terminal services software management. And silent installation capabilities let you customize the default installation configuration.
+Enhanced Protocol Support
WS_FTP Professional 2007
now supports file transfer over HTTP and HTTPS protocols as well as many other Internet data management standards like FTP and SSH.
+Built-in Compression
During transfer, files can be automatically compressed into the .ZIP archive file format, reducing transfer time and improving throughput.
+

Bullet-proof Security
WS_FTP Professional 2007 is the only file transfer client to offer 256-bit Advanced Encryption Standard (AES) keys with SSL transfers, making data encrypted with AES secure enough for classified government use.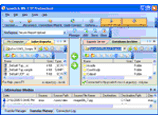 Explore WS FTP Professional's new features
WS_FTP Professional 2007 includes a wide range of features:

Support for FTP, SSL over FTP, SSH, HTTP and HTTPS transfers

Famous Ipswitch file transfer interface for single-click data transfer

Synchronize, Script, Scheduler, Find, Upload and Browser Integration utilities

Strong security for file transfers with OpenPGP public-key/private key-encryption, AES 256-bit ciphers for SSL and OpenPGP transfers
UPnP support on Windows® XP permits SSL via NAT firewalls

Highly customizable user interface with skins, user selection of transfer pane colors, single-pane view and Transfer Shortcuts for frequently transferred files

Compression mode automatically creates standard .ZIP files and reduces file transfer time

Extensive product help, tutorials and WS_FTP Professional Getting Started Guide, Security Guide and

Tools Guide promote advanced use

Optional silent installation makes wide deployment manageable

English, French and German language editions
+

System Requirements
During transfer, files can be automatically compressed into the .ZIP archive file format, reducing transfer time and improving throughput.
Windows 2000, Windows XP, Windows Server 2003™

32MB of RAM

32MB of disk space.